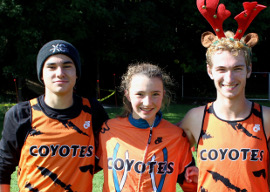 It has been a great year for the Georgian Bay Coyotes. The team has competed in numerous indoor, outdoor, and cross country meets throughout the year and have brought home several medals as well as earning a few hundred personal best performances.
The team's cross country season comes to an end on Saturday, November 24, as Hailey Abbott (14yo), Ethan Pentland (15yo), and Spencer Book (16yo) will be competing at the Canadian Cross Country Championships in Kingston.
Hailey will compete in the U18 Girls 4km race, while Ethan and Spencer will team up to race the U18 Boys 6km trek. Hailey recently placed 6th in the Grade 9 Girls 4km race at the OFSAA XC champs. Ethan recently placed 13th at the Athletics Ontario Grade 9-10 Boys 4km XC Championships. Back in the summer, Spencer was the first Coyote to break the two minute barrier over 800m on the track and is now learning to expand his racing to the longer events as well.
With each of them being so young in the U18 races, this weekend is more about gaining experience competing at a national level. The initial goal for each of them is to crack the 'top-100' at Nationals. Next year the National XC Champs will be held in Abbotsford, BC.
[photo: From left to right, Ethan Pentland, Hailey Abbott, and Spencer Book will all compete for the first time at the Canadian Cross Country Championships in Kingston on November 24]