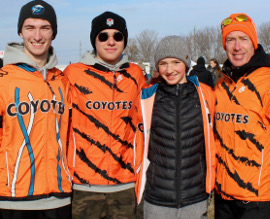 On Saturday, November 24th, the National Cross Country Championships were held at the scenic Fort Henry in Kingston, Ontario under sunny skies.
Temperatures had dropped to +1'C with a chilling wind coming off the beautiful bay back-dropping the very spectator friendly race course. Fortunately the temperatures were cold enough to keep the ground relatively hard, but it did begin to get chewed up after several races. Except for the wind, it was an almost perfect day for a national championship in late November.
Spencer Book [16yo from Meaford], Ethan Pentland [15yo from Durham] and Hailey Abbott [14yo from Collingwood] were all competing at the National level for the first time and were quite nervous in the days leading up to the race. On race day though, they had calmed their nerves and were ready to compete.
Hailey competed in the Girls U18 4km race with 235 girls spread out across the starting line, with only 199 actually competing the course that had icy sections laced out across the switch-backed, 2km looped course. Hailey didn't have the best start as, being three years younger than most of the runners, she got swallowed up over the first 400m. She kept her composure and worked her way through the pack, getting stronger as the race went on. A strong finishing kick over the remaining 300m gradual uphill climb gave her an amazing 40th spot overall with a time of 15:14.3 [average pace per kilometre was 3:49]
In the Boys U18 6km race, Ethan Pentland had a very aggressive start, leading the field over the first 250m, with Spencer Book having a similar swallowed up start that Abbott had. Pentland was gradually overtaken by the older runners, with both boys remaining about 25 seconds apart from each other for most of the race. Ethan finished strong up the final 300m climb to capture 135th spot of 235 competitors in a time of 21:18.3 [average pace per kilometre was 3:33], with team-mate Book not far behind. Spencer stopped the clock at 21:52.1 [average pace per kilometre was 3:39] to take 178th spot.
"The Coyotes are very proud of all three members. It was a great learning experience for them and look forward to even stronger national performances in the future from each of them. They now get a well deserved teo week break before they begin training for their indoor track season," said team coach Kevin Hooper.
[photo: From left to right, Spencer Book, Ethan Pentland and Hailey Abbott competed at the Canadian XC Championships in Kingston, with Coyote head coach Kevin Hooper cheering them on]