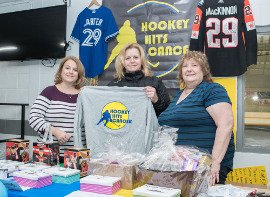 The Knights of Meaford Hockey fundraiser during the team's January 17th game was a huge success, according to Director of Marketing Jason Acres, despite the team's 4-2 loss to the Bradford Bulls.
Twenty-five team jerseys worn by Meaford Knights were auctioned off at prices ranging from $50-250, proceeds going to the A Child's Voice Foundation and its Angel Hair for Kids program that provides wigs and hair loss solutions to financially disadvantaged children who have lost their hair due to a medical condition or treatment.
Funds from the jersey auction were combined with proceeds of raffle ticket sales and beer garden for a total raised of $3,381.
The Hockey Hits Cancer charity game was organized by Mackenzie Fleming on behalf of A Child's Voice Foundation and with sponsors Nisim International and Here We Grow Fertilizer Company. "We are pleased with the amount raised from the charity game. "We hope to increase that amount drastically at our annual Hockey Hits Cancer tournament March 8-10," he said.
For tournament details, contact Mackenzie Fleming at mack.fleming.12@gmail.com
Photo: L-r: Michelle Fleming, Knights of Meaford owner Sabine Chollet, and regional manager of A Child's Voice Foundation (ACVF) Susan Reid with raffle items during the Knights of Meaford charity game on Thursday, January 17th. The charity game raised $3,381 for ACVF's Angel Hair for Kids program. Michelle's son Mackenzie Fleming organized the charity game as part of the fifth annual Hockey Hits Cancer campaign.