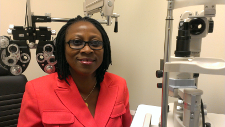 For a small rural town, Meaford is generally well served with regard to healthcare services. Family physicians, dentists, chiropractors, physiotherapists, and even naturopaths have established practices in the municipality, however if you've been looking for an optometrist in recent years, you've had to travel to larger centres like Owen Sound or Collingwood.
A new optometry practice and eyeglass dispensary has opened on Sykes Street giving Meaford residents a local option for their vision care needs. Dr. Maureen Oriahi is looking forward to meeting Meaford patients.
"I've been in Owen Sound for two years and I love it," Dr. Oriahi told The Independent. "I was looking at opening a second location and I drove all the way up the Bruce Peninsula, and all the way to Collingwood. When I drove into Meaford I fell in love with the scenic view."
Dr. Oriahi has practised optometry for nearly 30 years, initially in her native Nigeria in the 1980s, before moving to Canada where she earned her Canadian credentials from the University of Waterloo School of Optometry in 2012.
Her new Meaford practice, located at 44 Sykes Street N (beside the Shoe Tree), will initially be open on Mondays as well as one Saturday per month, and as the patient list grows, so too will the hours of operation. Dr. Oriahi is encouraged by the early response to her new location.
"The response has been very encouraging. Many people have stopped by, and I've already had five new patients. It's interesting because I was expecting to see a lot of seniors, but on my first day open, only one of the five new patients was a senior," Dr. Oriahi told The Independent.
In addition to the standard vision testing and eyeglass sales, Dr. Oriahi's Meaford practice will also be able to conduct screenings for glaucoma, diabetes, high blood pressure, and cataracts, as well as diagnose and manage diseases of the eye, red eyes, eye allergies, dry eyes, and many other sources of eye discomfort.
For more information you can visit her website ( www.drmaureenoriahi.ca ), or call 226-662-6622.