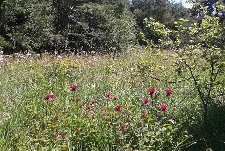 Nestled just outside Meaford is a native pollinator and habitat garden sanctuary at the Beaver Valley Flower Farm, where birds, butterflies, bees, toads, and other little creatures can find food, water, cover, and a place to raise their young. It is a place where there are no pesticides or herbicides used that would be unhealthy for these creatures or for people. It's a place that's full of life - indeed, a very exciting place to be!
Upon arriving 30 years ago, one of the first things that Anastasia Sparling, the landowner, did was plant spruce and pine trees. In the years that followed, Anastasia decided to intentionally create a native pollinator sanctuary. In the now five-acre experimental and demonstrational sanctuary which is allowed to be natural, there is a combination of cultivated, native and non-native plants.
Anastasia has planted apple trees for the deer, bee balm for the hummingbirds and Liatris for the monarch butterflies, to name just a few of the plants intentionally planted to benefit fellow creatures.
The native pollinator sanctuary at the Beaver Valley Flower Farm is the kind of place you, too, can have in your own yard, whether you have an apartment balcony, a city lot, or acreage in the country.
"There are small and big ways that you can be helpful - it can be as simple as planting pollinator-friendly plants in containers on your balcony," says Anastasia.
If looking for pollinator-friendly plants, some of the plants found in the sanctuary can be purchased on-site.
Anastasia welcomes people to walk through the sanctuary Fridays and Saturdays, 10am to 5pm, and Sundays, 10am to 5pm, throughout the summer, beginning in June. Take your time wandering through this peaceful place. Be sure to visit multiple times, as there is never a dull moment at the sanctuary - different things are happening at different times of the year!
For more information about the native pollinator and habitat garden sanctuary, contact Anastasia Sparling at 519-538-4961.