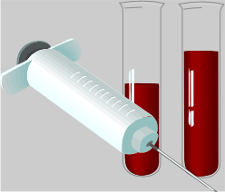 September is Childhood Cancer Awareness Month. Canadian Blood Services and the Gold Ribbon Campaign have partnered together to encourage families across Canada to rally together and donate blood, to honour childhood cancer survivors, and to remember childhood heroes who lost their lives.
The Gold Ribbon is the international symbol for childhood cancer in every form. Each year, 1,700 new cases of childhood cancer are diagnosed. The Gold Ribbon Campaign was created by Canadian, Stephanie Simmons (three time brain tumour survivor) and her family to help raise awareness of childhood cancer. The goal of the campaign is to collect 3,000 units of blood this September. A child with cancer may need five units of blood every week.
"Let's honour these children in their fight. Remember those who have lost their battle," said organizers in a press release.
There are plenty of opportunities to donate blood this September, in Meaford a clinic will be held at the Meaford & St. Vincent Community Centre on September 4, from 3 – 7 pm.