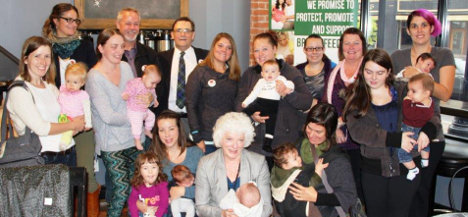 A new Breastfeeding Friendly Business Toolkit is now available to assist business and organizations to support both their customers and employees to continue to breastfeed their children. Breastfeeding is one of the most important starts to healthy infant and child development.
"Embracing breastfeeding friendly businesses helps to support the entire community on the road to wellness; and we all want to be healthy!" says Dr. Hazel Lynn, Grey Bruce Medical Officer of Health. "A measure of wellness of a community is reflected in the number of mothers who start and continue breastfeeding."
Launched today by the Grey Bruce Health Unit, the Toolkit speaks to the benefits of breastfeeding and contains strategies and resources businesses can use to create a baby friendly environment for their patrons and employees. It takes a community-wide effort to break down the challenges to breastfeeding and to make it easier for breastfeeding to become part of the norm.
The Grey Bruce Health Unit encourages businesses/organizations to review the Toolkit, go over the checklist in the kit, and place a sticker in a visible location to show their support. The Toolkit is available as a downloadable pdf at: https://www.publichealthgreybruce.on.ca/Portals/0/Topics/FamilyHealth/Breastfeeding/GBHUBFB_English_Toolkit.pdf
For more information about breastfeeding friendly business and to receive a print copy of the toolkit and re-usable sticker, contact the Grey Bruce Health Unit at 1-800-263-3456 or publichealth@publichealthgreybruce.on.ca