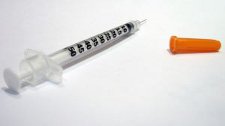 Ontarians are reminded to get their flu shots as the province kicks off its annual flu immunization program. The influenza vaccine remains the best protection against the flu virus.
Starting this week, the free flu vaccine is available for all Ontarians at their health care providers' offices, participating public health units, and at community and workplace flu immunization clinics. It is also available from trained pharmacists at approximately 2,500 pharmacies across Ontario, including in Meaford, for anyone five years of age and older.
Children and youth aged two to 17 years will also be able to get the flu vaccine in the form of a nasal spray instead of an injection. The nasal spray flu vaccine will help offer broader protection against four flu viruses instead of three. The added protection is against an additional strain of type-B influenza which affects children and youth more frequently than adults.
Parents will still have the option to vaccinate their children using an injection. The new injection for children and youth aged six months to 17 years will also protect against the same four viruses as the new nasal spray. While children aged two to 17 years can now receive the flu vaccine as a nasal spray or injectable, evidence shows the nasal spray flu vaccine is more effective for children aged two to five years old.
Influenza - commonly called the 'flu' - is more than a bad cold. It is a serious respiratory infection that can lead to hospitalization and even death, particularly for children under five, pregnant women, seniors and people with underlying health conditions. It takes about two weeks for the flu vaccine to give you protection against flu viruses. The sooner you get the shot, the sooner you can be protected.
Symptoms of the flu can include fever, cough, or sore throat, headaches and tiredness. Some people may also have vomiting and diarrhea. If you or your children develop flu symptoms, contact your health care provider.