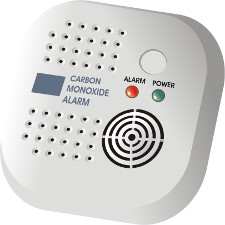 Residents of the Municipality of Meaford should be aware of new legislation regulating Carbon Monoxide alarms in residences. The newest legislature mandates that all residences must be equipped with working Carbon Monoxide alarms.
The new regulation, which came into effect October 15, 2014, updates Ontario's Fire Code following the passage of Bill 77 last year. These updates are based on recommendations from a Technical Advisory Committee which was led by the Office of the Fire Marshal and Emergency Management and included experts from fire services, the hotel and rental housing industries, condo owners and alarm manufacturers.
Carbon monoxide detectors will now be required near all sleeping areas in residential homes and in the service rooms, and adjacent sleeping areas in multi-residential units. Carbon monoxide alarms can be hardwired, battery-operated or plugged into the wall.
"We want Ontarians to be aware of the dangers of carbon monoxide poisoning because these tragedies are preventable. The change to the Fire Code is all about making sure we keep our families and homes safe. I urge all Ontarians to install a carbon monoxide alarm in their homes immediately", comments Yasir Naqvi, Minister of Community Safety and Correctional Services. More than 50 People die each year from carbon monoxide poisoning in Canada, including 11 on average in Ontario.
Meaford & District Fire Department Fire Chief, Mike Molloy, reminds all residents who do not already have a carbon monoxide detector that local hardware stores sell these alarms for your convenience and safety.