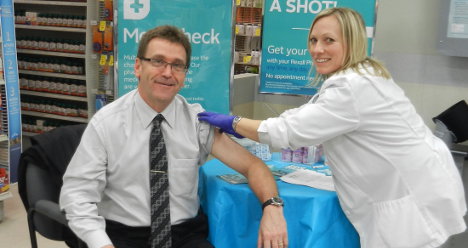 Bruce-Grey-Owen Sound MPP Bill Walker has received his influenza (flu) vaccine from Sue Metzger-Baerg at the Rexall location in Owen Sound.
Public Health Grey Bruce has been reminding area residents to get their flu shot; especially those with weakened immune systems, pregnant women, young children and the elderly.
Influenza infection rates are highest in children aged 5-9 years, but rates of serious illness and death are highest in children aged under 2 years, those over 65 years, and those with underlying medical conditions.
The vaccine protects against the three most likely influenza virus strains expected to be circulating in the upcoming flu season. The vaccine does not contain any live virus; you cannot get flu from the flu shot. It can take up to two weeks for the vaccine to become fully effective.
"While I appreciate everyone should have their right to choose whether to receive the flu shot, from my many years working closely to the health care sector and my own personal belief, I think the flu shot is a proactive measure against potential illness, and therefore I have the flu vaccination annually," said Walker of his decision to receive the annual vaccination.
In Meaford flu shots can be received at Muxlow pharmacy on Sykes Street, or by contacting your family doctor.