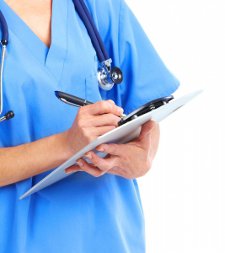 Gastro-intestinal illness and influenza are currently circulating in the community, and as a result, Grey Bruce Health Services Owen Sound and Meaford hospitals are seeing an increase in both types of illness.
Gastro-intestinal illnesses are often referred to as a "stomach bug," and symptoms include nausea, vomiting, and diarrhea. Lab results are pending to determine the exact cause of the illness, but it likely a type of norovirus. Symptoms of influenza (flu) include: fever/chills, cough, sore throat, runny or stuffy nose, muscle or body aches.
GBHS staff is working hard to minimize the spread of illness to other patients and staff, and they are also asking for the public's support. Although these outbreaks are currently limited to the Owen Sound and Meaford hospitals, as a precaution, they are asking visitors to help reduce the risk of illness and take the following precautions when visiting all of our hospitals:
Do not come to the hospital to visit patients if you are sick.

If you or a member of your household is sick, wait until 48 hours have passed without illness before coming to the hospital to visit patients. You can still spread illness to others even when you are not feeling sick.

Wash your hands upon entering and exiting the hospital, and before and after entering a patient's room. Hand washing is the best way to prevent the spread of infection.

If you are visiting a patient who is in isolation, you must check in with the Nurses' Station prior to entering the patient's room. You will be instructed on what type of personal protection to wear, which may include gloves, gown, masks.

Get vaccinated annually to protect against the flu.