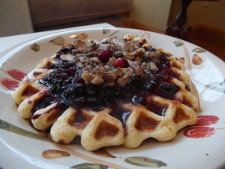 The holidays always bring lots of family and friends together and that means we often have overnight guests visiting us. Our usual breakfast of cereal, toast or fruit and yogurt is replaced with brunch decadence. One of the brunches we indulged in was requested from my visiting son, the other a totally impromptu New Year's Day nosh. After much eating and being merry, we are all 'fooded' out and it's time to go back to simpler and more nutritious meals (at least meals that are not as bad for us – and as much as we all love bacon… back to fruit and yogurt for breakfast!) Tonight we will have a salad for dinner.
All baconned out,
Judith Glover.
Belgian Waffles with Duck Confit and Blueberry Sauce
Serves 10 – 12
Waffles
Use your own favourite waffle recipe, or as follows.
This recipe1 makes approximately 10 waffles.
1 pkg. active dry yeast (¼ oz./1tbsp)
¼ cup warm milk (110F/45C)
3 egg yolks
2¾ cups warm milk (110F/45C)
¾ cup butter, melted and cooled to lukewarm
½ cup white sugar
1½ tsp salt
2 teaspoons vanilla extract
4 cups all-purpose flour
3 egg whites
In a small bowl, dissolve yeast in ¼ cup warm milk. Let stand until creamy, about 10 minutes.
In a large bowl, whisk together the egg yolks, ¼ cup of the warm milk and the melted butter. Stir in the yeast mixture, sugar, salt and vanilla. Stir in the remaining 2 ½ cups milk alternately with the flour, ending with the flour. Beat the egg whites until they form soft peaks; fold into the batter. Cover the bowl tightly with plastic wrap. Let rise in a warm place until doubled in volume, about 1 hour.
Preheat the waffle iron. Brush with oil and spoon about 1/2 cup (or as recommended by manufacturer) onto center of iron. Close the lid and bake until it stops steaming and the waffle is golden brown. Serve immediately or keep warm in 200F oven.
Blueberry Sauce
2 cups blueberries (I prefer wild blueberries) – leave some for garnish.
¼ cup water
1½ tsp ground Chinese five spice powder
½ tsp cayenne pepper
1 tbsp butter
Optional: 2 tbsp cranberry sauce (I had some leftover from Christmas dinner)
Optional: 1-2 tbsp orange-flavoured liqueur (or cherry or brandy – I did not add any to the blueberry sauce as I added to the duck comfit)
Cook in saucepan on low/medium heat until blueberries have burst and the consistency is thickened enough for a sauce.
Duck Confit
4-6 duck legs (I use the pre-packed precooked duck confit)
De-bone the legs and heat in saucepan. I was given a small bottle of lime/cranberry infused vodka this year. I used 1 tbsp in the duck. When plating, I used 2 of the cranberries as garnish.
Pure maple syrup
To plate:
On top of waffle add the blueberry sauce, a small spoonful of the duck comfit. Drizzle 1-2 tbsp maple syrup over all, garnish with some blueberries or cranberries.
If you really want to be more decadent – before adding garnish, add a dollop of Devonshire cream.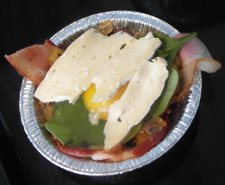 Baked Eggs and Bacon Cups
Our last minute New Year's Brunch consisted of what we had in the fridge.
This recipe is for one serving as it is baked in an individual pot pie tin (3 inch). It is a large serving, but if you need a bit extra, just add some toast.
2 pieces bacon, cooked (until lightly crisp but still able to bend)
1 egg
Small handful of baby spinach
Leftover cooked vegetables (we had red and orange peppers, onions, leftover baked potato and sweet potato)
Cheese (we used brie) – 3 small slices to roughly cover the top
Mustard (we used a sweet and smoky but just a nice Dijon would be good).
Cut the precooked bacon in half and line the pot pie tin. Add a slice of baked potato and sweet potato. Spread the potatoes with a teaspoon or more of mustard, add a tablespoon or more of the cooked vegetables, then add the spinach. Make a small hollow then add the egg. Cover with the cheese slices.
Bake at 350F about 10 – 15 minutes until egg is done to your taste (yolk runny to hard).