The Municipality of Meaford has been a beehive of activity once again during Earth Week.
The second annual RE-Use Fair was a particularly busy event held at the Meaford & St. Vincent Community Centre on April 18. A total of 1,791 pounds of goods were transferred out of local homes and businesses, and into the hands of 14 community groups who had compiled a wish-list of items their organizations needed.
The RE-Use Fair included a new feature in its second year – an Eco Fair that included local organizations and businesses displaying their eco-friendly products and services.
On Sunday April 19, more than 40 volunteers participated in the sixth annual Memorial Park clean-up hosted by Friends of Memorial Park and The Meaford Independent. The volunteers collected spread out across the park to collect trash and rake leaves.
Marissa Dolotallas of Friends of Memorial Park was thrilled with the large number of volunteers, and the fact that the amount of trash collected was significantly less than in previous years.
The Earth Week focus continued throughout the week with a celebration of John Muir's birthday at the Meaford Museum on April 21. Though Muir was American, the world renowned naturalist and conservationist spent a brief period living in Meaford in the 1860's.
Meaford's schools celebrated Earth Week with a range of activities including a hike on the Georgian Trail on April 22. Hundreds of students walked the trail from the harbour to Swarthmore Drive in support of the 8th annual Bruce Calvert Earth Day Hike for Conservation. This event is a co-operative venture between the three schools and the Grey Sauble Conservation Foundation. The hike has raised approximately $27,000 since it began in 2008. Participating schools keep half of what they raise, and half of the funds raised go to the Grey Sauble Conservation Foundation.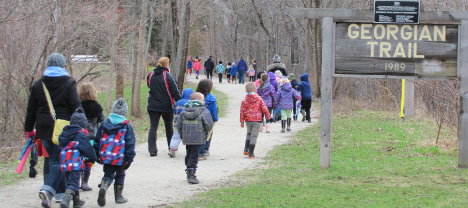 The Earth Week events continue this weekend with the Grey Sauble Conservation Authority's annual seedling and landscape tree sale. The event runs from 8 am to noon on Saturday April 25, and is located at 237897 Inglis Falls Road. Prices start at just a dollar, and those purchasing seedlings and landscape trees can pay with credit cards, debit, or cash.