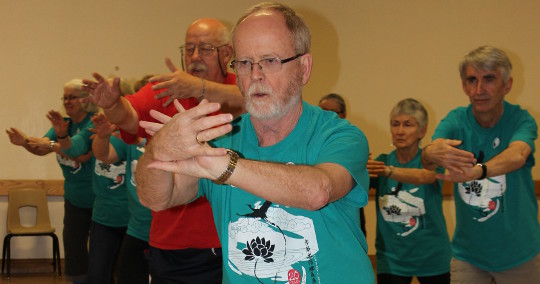 There was a lot of action at the Meaford and St. Vincent Community Centre on Monday, and most of it was in strikingly slow motion.
The Meaford and Thornbury chapters of the Collingwood branch of Taoist Tai Chi celebrated their 20th anniversary with a marathon relay (20 sets of tai chi) during the afternoon of April 25.
More than 50 people signed up to participate in the relay, which resembled a dance in striking synchronicity.
Similar celebrations will be held in all of the club's chapters, which stretch from Collingwood to Owen Sound to Sauble Beach, said branch leader Ted Sandford and Joy Birch, the local leader for Meaford.
"I teach classes in both Meaford and Thornbury," she said.
"We're celebrating by having participants from all locations assemble here under Judy's direction and we'll be doing a total of 20 sets, which consists of 108 moves," Sandford said.
Two groups were doing multiple sets in order to reach that number during the four-hour session, Sandford said. "We have about 350 members," he added.
Birch said the Monday afternoon classes in Meaford average 25 - 30 people, with another dozen to 15 coming to an evening session at Knox Presbyterian Church.
"The appeal of Taoist tai chi is the gentle movement working all parts of the body and is suitable for all ages," Sandford said. "Today, being a daytime event, we have a lot of senior people here, but the organization is made up of people from all age groups. Today is just about having fun.
"Tai chi is a form of moving meditation," he continued. "Once you learn a set it's both exercising and relaxing at the same time. We work on mind, body and spirit at the same time. It's working the body and taming the mind."
It fits in with the current popularity of the 'mindfulness' movement, which means immersing yourself in the moment. "It's very peaceful," Sandford said.
Birch said she first took up tai chi many years ago while living in Victoria, British Columbia, and working a "high-stress" job. "You just get hooked. I didn't have any health problems in those days, but I found it helped me with my work," she said. "My husband was interested in it as well, and I continued with it while he didn't."