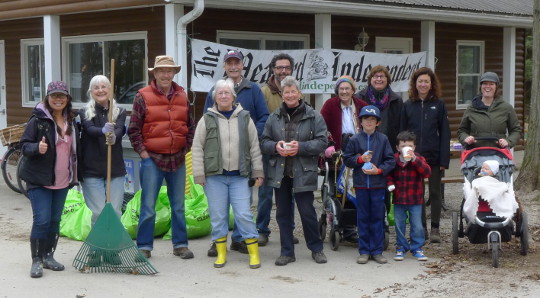 After a busy week of eco-friendly events and activities, Meaford capped off its third annual Earth Week with another successful RE-Use & Eco-Fair, and the annual Memorial Park clean-up.
The RE-Use Fair is an initiative that seeks wish lists from local organizations of items they can use, and calls upon the community to donate those items rather than have them sit in storage or sent to a landfill. On Saturday, April 23, this year's RE-Use Fair generated 1,594 pounds of goods donated by Meaford residents to the various organizations.
An Eco-Fair was included for a second year as a complementary event to the RE-Use Fair. The Eco-Fair gave local businesses and organizations an opportunity to showcase their eco-friendly products and services to the community.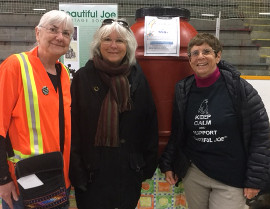 The Beautiful Joe Heritage Society was pleased to congratulate the winner of this year's draw at the Eco- and RE-use Fair. Lindy Iverson, representing the Eco- and Re-use Fair presented the winner of the draw, Bente Dineen, with one of the eco-friendly rain barrels being sold by the BJHS, represented by Evelyn Dean.
The Beautiful Joe Heritage Society is selling the eco-friendly rain barrels as a fundraiser for Meaford's leash-free park. The rain barrels are made from recycled food-grade plastic, and are complete with a debris screen, spigot, and overflow hose. They can be purchased online for $55.00 at www.rainbarrel.ca/BJHS, or you can call or drop in to the BJHS office at the Chamber of Commerce office opposite the library, or call 519-538-5895. Delivery of all ordered rain barrels will be on Saturday, June 25, from 10 am to 1 pm, at the Meaford and St. Vincent Community Centre.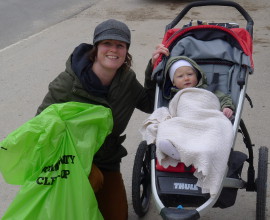 On Sunday, April 24, more than 20 volunteers gathered at Memorial Park for the sixth annual park clean-up sponsored by The Meaford Independent in partnership with the Friends of Memorial Park. After scouring the beaches, campsites, and woods for discarded trash, the volunteers warmed up with some hot apple cider.
Meaford's Supervisor of Parks and Facility Operations, Rod Willis, told The Independent that community clean-up initiatives like the annual Memorial Park event are appreciated by the municipality.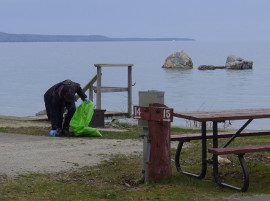 "On behalf of the Municipality of Meaford, I would like to extend a special thank you to the 'Friends of Memorial Park volunteers' for your dedication and efforts in organizing another successful, annual Spring clean-up of Memorial Park campground. Your group's commitment and hard work certainly provides a good start to our upcoming camping season and contributes to a positive experience for our guests and visitors. Your efforts are most appreciated," offered Willis.