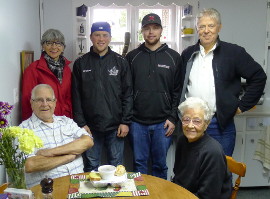 Two members of the Knights of Meaford hockey club traded in their skates for a set of wheels recently to help deliver some Meals on Wheels.
Adam Robinson, a 20 year-old forward, and 21 year-old defensive player Harley Haggarty joined Meals on Wheels volunteers Nancy and Jerry Primak on Monday, October 24, to deliver the much-appreciated meals.
The first stop was a cozy bungalow where Bruce and Isobell Parkin greeted the volunteers and the young hockey players with a welcoming smile and a few jokes and chuckles.
The Parkin's have used the Meals on Wheels service for more than ten years, and it is a service which they have come to rely on and appreciate.
"It's really good," Bruce Parkin told The Independent, adding that he would recommend the service to others. As for the friendly volunteers who deliver the meals, Parkin says, "They are all terrific, they're great people."
The service provides clients with a hot meal delivered to their door around lunch-time for a small fee. The meals are planned by a registered dietitian and accommodate a variety of special diets and dietary restrictions. The majority of the meals delivered under the program are for elderly people who may have difficulty preparing their own meals, but others, including those with disabilities or who are recovering from a major surgery can also benefit from the program.
For the Knights helping on Monday, it was a chance to give back to the community, and to learn about, and to help raise awareness about the program.
"I sort of knew what it was," Robinson said. "But I've never done something like this before, but it's a great thing to do."
Currently just seven clients per day are using the service in Meaford, and two clients in the Thornbury area also use the service, down from a peak in previous years when more than 15 Meaford residents used the service each day.
"We'd like to have at least 10 to 15 per day," suggested Colleen Benninger, Team Leader for the Community Support Services of Grey Bruce, who administer the Meals on Wheels program in the region.
In Meaford the program is offered from Monday through Thursday, and in Thornbury, Meals on Wheels deliveries are available on Mondays and Thursdays. The meals, which are prepared fresh each day at McGinty's Cafe on Sykes Street, include soup, an entree, and a dessert. The cost for each meal is $8.50.
If you would like more information you can call 519-538-4406, or visit the Meals on Wheels web page: www.homecommunitysupport.com/meals-on-wheels/
Photo: Standing (Left to Right) Meals on Wheels volunteer Nancy Primak, Knights of Meaford players Adam Robinson and Harley Haggarty, and volunteer Jerry Primak delivered a nutritious hot meal to Bruce and Isobell Parkin on Monday October 24 on behalf of the local Meals on Wheels program.