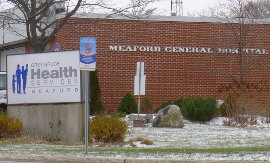 After months of struggling to find cost efficiencies in order to minimize the impact of a revised funding formula from the province, Grey Bruce Health Services (GBHS) received some good news last week when they were informed that they will receive an additional $2.5 million in funding for the 2017/18 fiscal year. What impact the additional funding will have on a proposal to consolidate rural surgical services to the Owen Sound hospital is unclear.
The increased funding will add 2.07 percent to the budget compared to last year according to the GBHS.
"This is very good news for local and regional hospital services in Grey Bruce," said GBHS President and CEO Lance Thurston. "This new money, combined with adjustments to our funding base last year, will help significantly to bring some stability to our operating budget. It will allow us to focus more of our energies and attention as an organization on strengthening our unique model of integrated rural health care."
Thurston was quick to caution that the organization still needs to explore cost efficiencies in an attempt to avoid massive projected budget deficits that are expected to exceed $17 million by the end of 2019/20.
"Even with this positive budget news, we must continue to look for opportunities to improve the efficiency and effectiveness of our services and programs if we are to achieve and sustain balanced budgets year over year."
As part of that ongoing strategy, GBHS is considering a proposal, as reported previously, to consolidate all elective day surgery at the Owen Sound Regional Hospital.
The GBHS recently concluded an extensive outreach to hospital and community stakeholders, including the general public, to receive input on the surgery proposal.
"As we had hoped," said Board Chair Mark Ostland, "We received some good input from many individuals and groups keenly interested in their hospital. That feedback has broadened our frame of reference and perspective on this issue. There is much to consider as a Board, beyond simply the financial merits of the proposal at hand."
The Board will now take some additional time to consider the best option for patient care and will make a decision regarding the elective day surgery program at its June meeting.
After six years of balanced budgets, GBHS, which operates six hospitals as well as a withdrawal management centre, is now facing the prospect of hefty annual operating deficits due in part to a change in the provincial funding model for hospitals their size.
The proposed consolidation of surgical services to Owen Sound would mean the discontinuation of day surgeries at the Meaford, Markdale, and Southampton hospitals; it would also mean savings of $550,000 per year. If implemented, the consolidation of surgical services would also negate the need to spend $3 million to replace and refurbish surgical equipment and sterilization systems, along with other required improvements to the rural operating rooms.
Currently five percent of the roughly 10,000 day surgeries conducted by GBHS hospitals each year are done in Meaford. Thurston told attendees of a public meeting held in Meaford earlier this year that the Owen Sound operating rooms are currently running at 87 percent capacity and could absorb the additional six to eight extra surgeries per day that would result if surgical services were to be consolidated.
Under the proposal, endoscopy services, which require less stringent requirements to maintain sterility of environment and do not require a fully equipped operating room, would continue at all rural hospitals under the GBHS umbrella.
With the new injection of funding from the Province, GBHS is also optimistic the Province will make adjustments to its funding formula later this year.
"The South West Local Health Integration Network has been instrumental in supporting our advocacy efforts with the Ministry of Health to recognize the unique challenges we face as the only corporation in the Province with six integrated rural hospitals," said Thurston. "The Ministry has been receptive to our plea for a funding formula adjustment. We are hopeful that a new funding arrangement will be announced later this year that will bring financial predictability to the organization and enable us to better plan for a sustainable future."