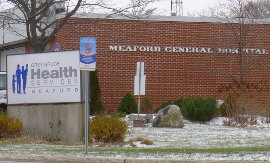 The board of directors for Grey Bruce Health Services will meet on June 28 to review and consider public input on potential changes to surgical services, and the recommendations that have been prepared for the board to consider offer some hope to those who had feared that the operating room in Meaford's hospital would be closed.
"At its meeting on February 22, 2017, the Board of Directors directed staff to seek feedback on consolidating all elective day surgeries at the Owen Sound Regional Hospital. Currently, GBHS offers elective day surgery in Meaford, Markdale, Southampton and Owen Sound," said the GBHS in a press release issued on Monday afternoon (June 20).
According to the GBHS, after seeking that input from hundreds of residents and stakeholders, among five recommendations being made to the board is that Meaford's operating room remain open.
The following recommendations have been prepared for the board to consider on June 28:
1. Maintain the operating room at Meaford hospital and integrate it fully into the GBHS surgical program, ensuring consistent corporate oversight and management
2. Immediately establish a working group of selected staff and physicians, co-chaired by the Chief of Medical Staff and the VP Patient Care and Quality, to develop and oversee the implementation of a work plan to:
a. Upgrade infrastructure and equipment in the Medical Device Reprocessing Department and the Surgery Department at Owen Sound Regional Hospital
b. Discontinue elective day surgery at Southampton Hospital and Markdale Hospital over the course of the next 12 months. Planning will begin imminently and the working group will confirm timelines.
c. Develop and implement a strategy to replace the fleet of anesthesia machines
3. Engage internal and external stakeholders in the development of a sustainability plan for GBHS, commencing in fiscal Q2 2017/18, which articulates and animates GBHS' stated strategic intention to be a leader in integrated rural health care. This will include, among other things, articulating the roles of each hospital and strategies to strengthen the resilience of each.
4. Continue to identify and implement internal efficiency/ cost savings initiatives that maintain quality of patient care with minimal staffing disruption, consistent with the corporation's Transformation Action Plan and Back to Balance initiatives.
5. Continue to advocate, in conjunction with stakeholders and community partners, for sustainable changes to the Provincial funding model that reflect the rural realities of Grey Bruce and the unique challenges of the GBHS operating model.
After six years of balanced budgets, GBHS, which operates six hospitals as well as a withdrawal management centre, is now facing the prospect of hefty annual operating deficits due in part to a change in the provincial funding model for hospitals their size. In his presentations to Meaford's council earlier this year, GBHS CEO Lance Thurston noted that if GBHS does not change its cost structure, the annual deficit from operations is expected to exceed $17 million by the end of 2019/20.
The financial status for GBHS improved slightly last month after they were informed that the province would provide an additional $2.5 million in funding for the 2017/18 fiscal year which will provide an additional 2.07 percent to this year's budget compared to last year.
Thurston was quick to caution when that additional funding was announced, that the organization still needs to explore cost efficiencies in an attempt to reduce the annual operating budget.
"Even with this positive budget news, we must continue to look for opportunities to improve the efficiency and effectiveness of our services and programs if we are to achieve and sustain balanced budgets year over year," said Thurston.
The GBHS board of directors has been considering options in order to address the imminent deficits, including the consolidation of surgical services to the Owen Sound hospital. The proposed consolidation of surgical services to Owen Sound would have meant the discontinuation of day surgeries at the Meaford, Markdale, and Southampton hospitals; it would also mean savings of $550,000 per year. If implemented, the consolidation of surgical services would also have negated the need to spend $3 million to replace and refurbish surgical equipment and sterilization systems, along with other required improvements to the rural operating rooms. Under the proposal, endoscopy services, which require less stringent requirements to maintain sterility of environment and do not require a fully equipped operating room, would have continued at all rural hospitals under the GBHS umbrella.
Currently five percent of the roughly 10,000 day surgeries conducted by GBHS hospitals each year are done in Meaford. Thurston says that the Owen Sound operating rooms are currently running at 87 percent capacity and could absorb the additional six to eight extra surgeries per day that would result if surgical services were to be consolidated.
The proposal created controversy in the community and hundreds of residents turned out to public meetings held in March at the United Church and the community centre to voice their opinions in hopes of saving Meaford's operating room, the loss of which many saw as a potential first cut that would ultimately lead to the closure of the hospital, though Thurston has stressed throughout the process that there is no appetite to close any of the hospitals within the GBHS system.
This article was updated at 6:16 pm, on June 20, 2017.