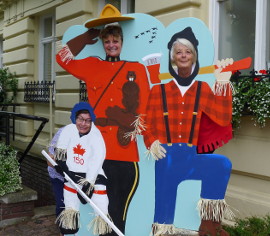 The 21st annual Meaford Scarecrow Invasion & Family Festival is fast approaching, so downtown businesses are scurrying to finish their scarecrow displays. Outside The Meaford Independent office on Sykes Street, you can take some fun photos with our face cutout display, dressed up for this year's theme of Scarecrows Celebrating Canada's 150th birthday.
This week Head Scarecrow Marilyn Morris along with Scarecrow volunteer Helen Solmes stopped by to join TMI Publisher Susanne Wussow, whose husband Earl's artistic efforts made the display possible to be among the first to take some fun photos.
The Scarecrow Invasion parade takes place on Friday, September 29, at 6 p.m. on Sykes Street, followed by the festival at 6:30 p.m. at the Rotary Harbour Pavilion. There will be free family activities and entertainment, an apple pie auction, award presentations, and of course, hundreds of scarecrows.
For information on the Scarecrow Invasion and scarecrow-related activities visit www.scareinvasion.ca, or meaford.ca.