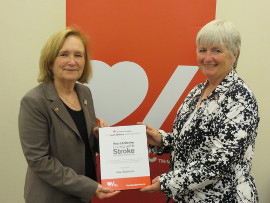 Mary Solomon can't help but wonder just how much better the quality of life would have been for her father following his stroke in 1992 had he had access to the Living with Stroke (LWS) TM Program for which she has helped train facilitators since 2010. Prior to 2010, she was a LWS facilitator and is presently on the national redesign team.
Solomon was honoured during the Canadian Stroke Congress, September 9-10, when experts converged in Calgary to shape the future direction of stroke, to brainstorm strategies to eradicate the impact of stroke, and showcase the latest research breakthroughs. More than 100 speakers highlighted innovations in basic science, prevention, treatment, and recovery.
"Twenty-five years ago this past summer, my dad was preparing to come to Calgary for my brother's wedding when he had a stroke," she said. "Dad lived ten years following his stroke but I wonder just how much better those ten years would have been knowing what experts know now."
Living well at home and in the community following a stroke is one of the aims of LWS.
Mary was presented the Jack Wallace Memorial Award in recognition of her outstanding contributions to the Living with Stroke TM program across Canada. She was introduced to the congress delegates as a "retired health care provider, specializing in physiotherapy and rehabilitation, a proud mom, a dedicated caregiver for her family and a devoted champion of the Living with Stroke program" who, since 2010, has trained more than 150 facilitators and supported them in implementing the program in Ontario, British Columbia, Prince Edward Island, and Quebec.
"The Living with Stroke TM Program is a community-based program that helps survivors and their families manage the challenges of living with the effects of a stroke," the delegates were told. "This eight-session program gives survivors and caregivers the skills and confidence to take back control of their lives and an opportunity to interact with, and learn from, others experiencing similar challenges."
Photo: L-R: Mary Lewis, Heart & Stroke Chief Mission and Research Officer, with Mary Solomon during the Canadian Stroke Congress in Calgary, September 9-10.