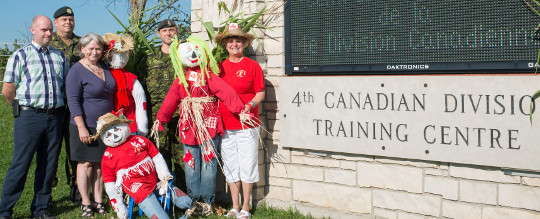 Seven scarecrows are greeting military personnel and civilians to the 4th Canadian Division Training Centre as a show of support for the Municipality of Meaford and the Scarecrow Invasion and Family Festival.
Commander Lieutenant Colonel James L'Heureux had heard about scarecrows invading Meaford's downtown long before taking up his duties at the training centre in July, and welcomed the idea of scarecrows on the base as a way of strengthening ties between the municipality and the 4th Canadian Division.
"My family and I had heard nothing but great things about Meaford's scarecrows and how much fun they are," he said. "The 4th Canadian Division has been part of the scarecrow parade each year. The next logical step was to have a scarecrow display on the base."
Photo: L-R: Meaford Economic Development and Tourism Officer Stephen Murray, Master Warrant Officer Jim Murnaghan, Military Family Resource Centre Meaford Executive Director Cindy Lewin, Commanding Officer Lieutenant-Colonel James L'Heureux, Head Scarecrow Marilyn Morris.