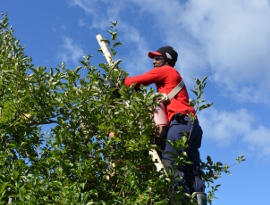 Local apple growers are more than half-way through this year's harvesting. Fresh apple crops are reported to be light and orchards that were hit by hail in June are faced with a crop of apples suitable only for juice and cider.
Apple producers throughout the Municipality of Meaford are facing a double-edged sword. Last year's drought impacted this year's budding. What did grow is high quality but required more pest management to combat scab and fungus due to wet growing conditions this year.
And then came the hail in June and unseasonably hot conditions during harvest.
Last year's drought is more a contributing factor in this year's light crop than either the cold spring, wet summer, and excessive heat this fall, according to David Lambe of Grandma Lambe's in Meaford.
"The apple trees were so stressed last year with the drought that they went into a 'save-myself' mode and did not set as many fruit buds this spring," he said. "The quality of the apples that did grow this year is good but the orchards required more integrated pest management (IPM). All you have to do is look at backyard crabapple trees - with the constant wetting from rain this spring and summer, they developed scab and fungus and they have no leaves."
Bill Vail of Vail's Orchards on Hwy 26 is convinced that his apple crop would have "chugged along, despite the cool weather, maturing right on time," if not for the hail that reduced the crop to juice and cider grade, as was the case for most all apple growers west of the 7th Line. "The quality is excellent in the Meaford area," he said. "Spring and summer were cool and wet but our trees would have probably worked through it. However, we had the misfortune of being hit with hail."
Early indications were for better crops than the crops that materialized, according to Brad Johnston of Barbetta Orchards Ltd. "Growers were fooled into believing that the crops were good but come time to pick, they found that the apples were small and the volume was not there," he said. "The quality and flavour are good, but the volume is down 20% on average."
Lambe estimates that harvest will be completed one, maybe two weeks earlier than usual due in part to the record-breaking heat this September. He expects that his seasonal workers will be headed home by the end of October.