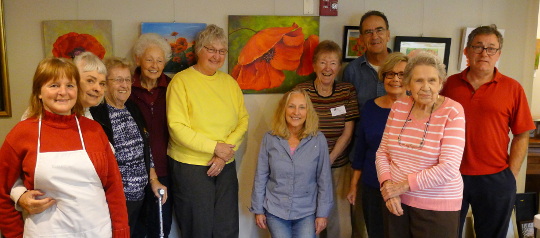 The Meaford Creative Arts Association has once again created a display of poppy paintings in the Terrace Room at Meaford Hall in recognition of Remembrance Day.
This is the second year for the iniative, and members of the MCAA were eager to show off their paintings as they prepared the display in advance of Remembrance Day.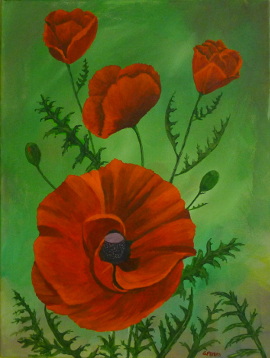 The poppy has been used by the Canadian Legion since 1921 as a symbol of remembrance of Canadians who have died in war. Money collected from the annual sale of poppies is used to assist Canadian veterans.
The MCAA has been bringing local artists together since 2002. The group meets on the first Monday of the month at Meaford Hall, where they use their artistic talents to create beautiful works of art. While their art is the focus, the organization has given back to the community in many ways over the years, including an initiative at the hospital that turned ceiling tiles into works of art.
Thier display of poppy paintings opened on November 6 and will run through the end of November.
The community will honour Remembrance Day on Saturday, November 11, beginning at 10 a.m. at the Meaford & St. Vincent Community Centre where coffee and donuts will be served prior to the 11 a.m. ceremony at the Cenotaph outside Meaford Hall. After the ceremony, the community is invited back to the community centre to enjoy some chili prepared by the 4th Canadian Division Training Centre kitchen. Hot dogs and beverages will also be available.