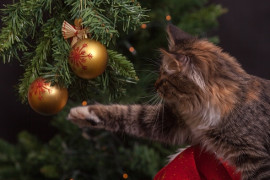 With the holidays fast approaching, it is always a good idea to review the festive items in your home for pet safety purposes. While many simple Christmas decorations may seem harmless, they could be potentially dangerous to your pet. Consider these common hazards, and let's all keep our pets safe this holiday season.
Breakable Christmas Decorations: While they may look fantastic on your tree, decorative ornaments may be mistaken for play toys, especially shiny glass balls. A curious pet may suffer injury if they were to bite into one, or step on shards from a broken decoration. Take care to thoroughly clean up these areas as broken decorations leave microscopic shards on the floor that may get stuck in paws and feet alike.
Tinsel: This Christmas decoration is beautiful, and is also extremely dangerous for pets – particularly cats. Cats especially like to eat tinsel, and doing so is potentially fatal. It is smart to stay away from all stringy decorations including tinsel, yarn, and thin ribbons.
Dangerous Plants: Many pets are rushed to veterinary emergency clinics every holiday season from eating toxic plants. While they are beautiful and decorative, plants like poinsettias, holly and mistletoe, and lilies are among the most toxic for pets. Symptoms from consumption of these plants may lead to serious health problems. Before bringing any festive plants into your home, know which ones are safe and non-toxic for both pets and people.
Potpourri: This delicious scented decoration may smell nice, but it is often mistaken for a treat. Symptoms from the consumption of potpourri-like products include stomach discomfort, vomiting, and diarrhea.
Medication: While keeping medication out of reach in your own home is common sense, houseguests may be more apt to leave theirs in an open suitcase or on a bedside table. This makes dangerous medications easy for pets to get to, and they can be fatal if ingested.
Electrical Wires and Lights: With the holiday season comes another potential hazard: extra lights used for decorating our homes and Christmas trees. Curious kittens and puppies are most likely to gnaw on cords, which can cause electrical shock.
Fires and Candles: Warm fireplaces and festive candles are a Christmas tradition in many households. It is believed that candles account for about half of all household fires in December and January. Keep all candles up high, out of the way of wagging tails and curious pets. Putting up a guard or screen near a hot fireplace will keep both pets and children at a safe distance.
It is such a wonderful time of year when we decorate our homes to get fully in the holiday spirit, but make sure you do it in a way that is both festive and safe for our beloved pets. Stay tuned for next week's article, to learn about what holiday foods can be dangerous for pets.
Brandon Forder – also known as The Pet Expert - is Vice President of Canadian Pet Connection, a family-owned and -operated business located in Meaford. He has over twenty years experience specializing in pet nutrition, behaviour and lifestyle. Canadian Pet Connection is an industry leader committed to providing their clients with the highest levels of personal, attentive service. Learn more at www.CanadianPetConnection.com.