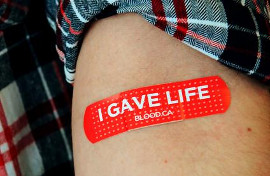 Collecting blood during the holidays can be challenging, because many donors are away or busy with family activities. Events are being held in communities across the country in December to inspire eligible Canadians to give a gift that can't be bought. One of these events is a Blood Donor Clinic in Meaford.
"The Meaford blood donor clinic that is happening on Thursday, December 7 is a very important clinic since it is right at the beginning of the holiday season," said Stephanie Wilkinson, Territory Manager for Canadian Blood Services. "Platelets, a component of blood, only have a shelf life of five days. Therefore, Canadian Blood Services must hold clinics throughout the holiday season to ensure local patients have the blood that they need. Many donors are busy now with the regular holiday hustle and bustle, but donating at this clinic might be the most impactful one made all year, due to the limited availability of blood and people to donate it during the holiday season."
Canadian Blood Services is encouraging Meaford residents to incorporate giving blood into their holiday celebrations and help save lives. Give blood on Thursday, December 7 and help fill more than 50 open appointments. Book your appointment now to save a life.
Meaford Blood Donor Clinic
Thursday, December 7, 3 - 7 p.m. – Meaford Community Centre, 151 Collingwood Street.
To book an appointment today, locate a clinic, check your eligibility, and more, download the GiveBlood App or visit blood.ca.