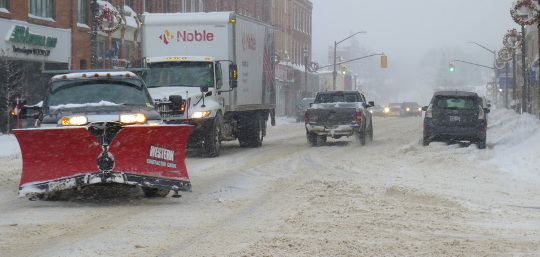 The Municipality of Meaford says they are "continuing to work to clear the Municipal roadways, and we appreciate your patience during this time."
Heavy snowfall over the past two weeks has resulted in significant accumulations and snow packed road surfaces which have frustrated motorists, many of whom have taken to social media to vent. On Monday warmer temperatures brought about new challenges for motorists, with many streets in the municipality becoming difficult if not impossible to navigate.
"The warmer temperatures are now causing the packed snow to loosen. Despite all roads being plowed daily, this is causing slippery and slushy conditions," said the municipality in a statement issued on Tuesday. "It is forecasted that temperatures may reach as high as +9°C by Thursday, then drop considerably by Saturday to -12°C. Crews have been out this morning scraping the roads down to the best of our abilities to remove the snow pack. This is necessary to allow for the upcoming melting to reach our storm sewers and ditches. This action is going to cause considerable amount of snow and ice windrows in driveways, which may be difficult for residents to shovel and/or blow as the weight and chunks will be larger than normal."
The statement from the municipality is likely to be of little consolation to area motorists who have become frustrated with the state of the roads. With many expressing their concerns on social media websites like Facebook, the municipality has found itself the target of significant anger.
"Not sure the name of the street that the old Legion is on but my God!!! It has been hard to tell if it has been ploughed at all this year LOL my minivan sits pretty high went to town today for coffee almost ripped at the bottom of it off," one resident posted on the Municipality of Meaford's Facebook page.
"There was a huge drift at the top of Union street last night when I came through at 6pm. The drift is still there only bigger. I have AWD and I still had to struggle through it. Please plow that street before someone gets stuck or worse," posted another resident.
The municipality responded to one complaint on their Facebook page asking resident to be patient.
"Unfortunately mother nature has not let up her assault and it has been snowing almost continuously for about 2 weeks, and blowing snow due to winds has also been an issue. Ours crews are out and continuing to plow this evening, and we really appreciate everyone's patience while we work to get the roads cleared," responded the municipality on Facebook.
It hasn't been just roads that have frustrated residents, with some complaining about the condition of sidewalks on the municipal Facebook page. The municipality responded by noting that the sidewalk plow had broken down and was being repaired.
"Snow removal in this town is a joke," posted another resident on Facebook.
For information on the Municipality of Meaford's winter road maintenance standards, visit www.meaford.ca/winterroads. Comments or inquiries related to winter road maintenance can be directed to roadsinquiry@meaford.ca.