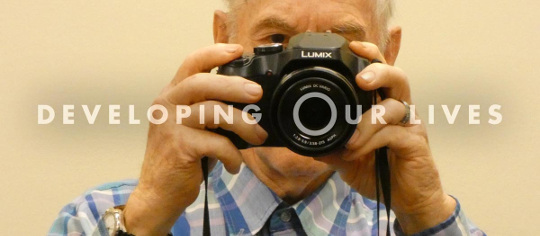 Eight weeks, seven cameras, seven individuals with dementia, six care partners and 2,180 photographs.
With funding from the New Horizons for Seniors Grant, the Alzheimer Society of Grey-Bruce was able to create a new photography program for people with dementia and their care partners.
A simple premise – teach people with dementia and their care partners to use digital cameras. Each week the group would get together to share photographs, laugh, and grow with each other.
Developing Our Lives is the result. A powerful and expressive photography show containing 28 images from the larger collection.
The show will be on display in the Tom Thomson Community Engagement Studio from January 6 –21 and at the Bruce County Museum and Cultural Centre from February 7 – 24.
"Too often images of people with dementia are dark. The people are depicted as sad, scared, or confused. The participants wanted to show that there is another side of the story," stated project coordinator Chris Doyle. "A side of the story where you can still learn new things and live well."
The full collection of images contains photographs from Spain, California, Eastern Ontario, and all the hidden corners of Grey-Bruce. Images of hobbies, travels, and activity speak to this group's desire and ability to keep living well after receiving a diagnosis of dementia.
This project would not have been possible without help from Parson's Foto Source, Sophia Lemon, and Tony Luciani who all contributed in their own ways with important lessons and advice.
The Alzheimer Society of Grey-Bruce is a local charity that supports people with dementia and their care partners through programs and individualized support counselling. If you or someone you know needs help managing dementia or the dementia of a loved one please contact us at (519) 376-7230 or at info@alzheimergreybruce.com