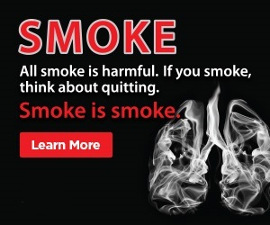 Whether it comes from tobacco, cannabis, or from a hookah pipe, smoke is smoke and you need to limit your exposure to it. That's the message from the Grey Bruce Health Unit as they join health organizations across the country in kicking off National Non-Smoking Week, which runs Sunday, January 21 through to Saturday, January 27.
Established in 1977 by the Canadian Council for Tobacco Control, National Non-Smoking Week is a coast-to-coast effort to inform and educate Canadians about the dangers of tobacco use, to reduce exposure to second-hand smoke, and to support those who currently use tobacco to quit.
"Many of the same fine particles, cancer-causing compounds, volatile organic compounds, carbon monoxide, and heavy metals that are found in tobacco smoke are also found in cannabis smoke," says Beth Karrow, Public Health Nurse. "While most people know there is no safe level of exposure to second-hand tobacco smoke, there is less awareness about the health risks associated with exposure to smoke from cannabis or hookah." Analysis of tobacco and cannabis smoke has shown that they have thirty-three known cancer-causing chemicals in common; these substances are also found on California's list of chemicals known to cause cancer or birth defects.
The Health Unit recommends that everyone limit their exposure to tobacco, cannabis, and hookah smoke. This is especially important for children, pregnant women, older adults, and those with pre-existing health conditions, such as asthma, lung, and heart diseases. For more information, visit www.publichealthgreybruce.on.ca.