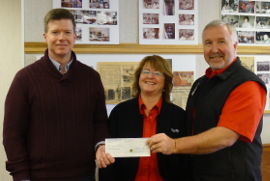 Community Living Meaford received a $15,000 donation from the W. Garfield Weston Foundation last week. The cheque was presented by Bill and Barb MacDonald, owners of Bill's Valu-mart.
The MacDonalds presented the cheque to Jeffrey Pilkington, Executive Director of Community Living Meaford, along with a letter from the foundation board.
"The board continues to be impressed with the care your organization is providing to those in need as an integral part of the community in Meaford," read part of the letter. "The foundation makes a limited number of grants to charitable organizations each year. Unsolicited applications are not accepted by the foundation; these grants are pursued by the directors, reflecting their interests and priorities."
Pilkington told The Independent that the funds will be put to good use.
"It always goes toward helping people become more inclusive in their community," Pilkington explained. "So to meet their needs sometimes it's supplementing activities, or it could be purchasing services for them so they can be more engaged."
Bill MacDonald explained how the contribution came about.
"Stew Green is a customer of the store, and he is a member of the Garfield Weston Foundation, and we got chatting in the store one day, and he said, 'You're a big community supporter, how would you like to be the face of presenting our awards to local charities, events, and groups?' I said absolutely and then he emailed me and said, 'We've got money, do you know anyone in the community that could use it?' and I said, 'Have I got a list for you,'" MacDonald explained.
MacDonald said that the Meaford Hospital was also given a contribution of $10,000 from the foundation.