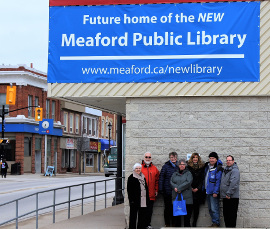 Two signs confirming the site of the new Meaford Public Library have recently been installed. The location at 11 Sykes Street North (the former Foodland grocery store building) now sports large banners proclaiming the good news about the Library's future location to everyone passing by.
A group of library supporters gathered at the site under one of the banners to celebrate the good news.
Peter Bantock, chair of the Meaford Public Library Fundraising Committee, noted, "The Fundraising Committee is pleased with the signs on the building which demonstrate to everyone that the new library project is proceeding apace. The Campaign has already received generous donations from supporters of the library and looks forward to continued progress in reaching the fundraising goal for the new building."
Mayor Barb Clumpus said, "Raising the 'future home of' banners marks a significant step on the road to making our new, accessible library a reality. The public input sessions that helped make up the wish list for the use of this space have encouraged so much interest and support for the project. It is so exciting to see the momentum building and the donations coming in to the Fundraising Campaign, which is being spearheaded by The Friends of the Meaford Library."
Library supporters are encouraged to donate to the Library Campaign. Cheques made out to the Friends of the Meaford Library can be dropped off at the library, or you can donate online at: www.meaford.ca/newlibrary
Photo: Shown with one of the banners from left: Mayor Barb Clumpus, Jim Brown, Elaine Burns, Jane Leckenby, Lynne Fascinato, Fundraising Committee Chair Peter Bantock, and Darcy Chapman.