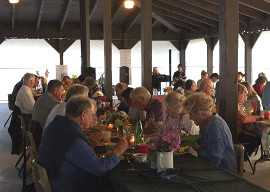 If you love supporting local community initiatives, consider attending the 5th annual Feast of Fields dinner on Saturday, August 25.
This fabulous vegetarian feast is being organized by the Meaford Farmers' Market along with the SMILE Animal Society, and is intended to highlight our local musicians, farmers, artisans, and chefs.
"The evening not only provides a four-course vegetarian feast with vegan options, but local musicians will be playing throughout the evening for your entertainment. There will also be a silent auction featuring fabulous and unique products from many local entrepreneurs, and there's a prize for the best-dressed table of six, so come with all your finery and make this a really fun evening," said event organizer Joyce Taylor.
Part of the proceeds of this feast will go towards SMILE to help in their pet support program.
"We started the SMILE Animal Society to help out local pets in need – those needing a temporary home during difficult times. There has been a large increase in demand lately for our services, and help is always appreciated," Taylor said.
Proceeds will also benefit the Meaford Farmers' Market, now in its 12th season.
"We are in the process of developing new signage, in order to better promote the market. We feel that the market is an integral part of Meaford, and we want to see it increase its profile in the community. Most of the produce that the chefs will use for this feast will come from our vendors – a great opportunity to feature local farmers," noted Meaford Farmers' Market Past President Marion Boyd.
The event will be held at the Rotary Harbour Pavilion, so that diners can enjoy the beautiful vistas over the bay, and relax in the fresh air.
Feast of Fields is being held on Saturday, August 25, from 5:30 to 9 p.m. Tickets are just $25 for adults, $10 for children 4-12, and preschoolers free.
Tickets are available at the Meaford Farmers' Market, Sunrise Organics, and Meaford Hall, or call 519-379-7392 or 519-374-7405.