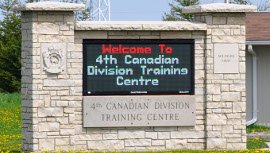 The Commanding Officer of the 4th Canadian Division Training Centre has advised the public of upcoming military training activities in Meaford.
The 1St Battalion, The Royal Canadian Regiment will be conducting live fire exercises at the training centre on October 15-18, 2019. Noise from ranges at the training centre may be heard from 7 a.m. to 1 a.m.
Visitors and residents may notice a succession of loud noises during this time. Noise may be heard from weapons and large-calibre guns firing simultaneously. This exercise is purely for training purposes and at no time will safety or security of the public be in jeopardy.
The Commanding Officer thanks the public for their continued support to our military community.