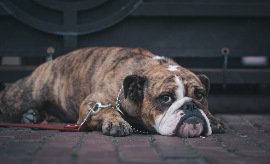 Animal rights advocates in Ontario have long called for an overhaul to the province's outdated animal welfare and cruelty enforcement policies. At long last, it seems as if the government has finally responded with a new framework focused on better training for enforcement officials and stiffer penalties for animal abusers.
On October 29, the Province of Ontario announced new upcoming legislation to protect and enforce the welfare of Ontario's animals. Through a team of approximately one hundred highly-specialized inspectors, this legislation is designed to replace the protections that were put in place previously by the OSPCA; an organization no longer investigating and assisting with animal cruelty cases.
In March 2019, after one hundred years of protecting the welfare of Ontario's animals, the OSPCA announced they would no longer be enforcing animal cruelty laws, and will shift focus to improving their shelter operations. This came to light after Justice Timothy Minnema ruled that having a private organization enforcing the law without transparency or accountability was unethical. There was also a complaint from the OSPCA that they were underfunded and lacked the appropriate resources to carry out their mandate.
A consulting firm, working on behalf of the province, surveyed Ontarians earlier this year. The findings released showed overwhelming support for an animal enforcement agency led by Ontario's police forces. After all, the police are responsible for enforcing every other law, so why wouldn't they be responsible for enforcing animal welfare laws, as well?
This new bill, which is currently being called the 'Provincial Animal Welfare Services Act', or 'PAWS', will significantly increase penalties for animal abusers, including higher fines and longer jail time. Some of the inspectors assigned to work in this division will oversee cases pertaining to livestock, zoos, and aquariums, and horses. Under the new bill, individuals convicted of major offences may be fined upwards of $130,000 and face up to two years in prison. For conviction of a second offence, the maximum fine is doubled. When it comes to corporations found guilty of animal abuse, a first offence fine starts at $250,000, and goes up to $1 million for repeat offences.
During a press conference, Solicitor General Sylvia Jones told reporters, "I believe at the end of the day, we're going to have a stronger model that ensures we have consistency in enforcement across Ontario."
These sentiments were also shared by Animal Justice's executive director, Camille Labchuk, who stated, "Animal Justice is encouraged by Ontario's announcement that animal welfare enforcement in this province will become a fully public function." Labchuk also added, "We support a robust, well-funded public enforcement model because animal protection is a key societal value, and this is what Ontarians expect."
Crown attorneys in the province will receive special training in order to prosecute animal cruelty cases, as well. This is considered by many to be a groundbreaking advancement in animal welfare for Ontario, as previous animal welfare cases have traditionally not been prosecuted aggressively. This lays out a framework for more serious enforcement of animal cruelty laws, something the province has been lax on up until now.
Barbara Cartwright of Humane Canada seemed to echo the sentiments of many pushing for prosecutor training in animal cruelty cases, stating, "Crown prosecutor training is a breakthrough for Ontario in animal welfare." Cartwright added, "It will strengthen relationships between enforcement and Crown leading to more convictions for animal abusers."
This new PAWS bill is planned to be put in place as of January 1, 2020. So far, there is no information available as to how much this will cost taxpayers, but can we really put a price on the welfare of our animals?
Brandon Forder, known as The Pet Expert, is vice-president of Canadian Pet Connection, an industry leader in healthy pet lifestyles. Brandon has more than twenty-five years of experience specializing in pet health, nutrition, and behaviour. He has written hundreds of informative pet-related articles for newspapers, magazines, radio, and the popular Ask the Pet Expert Blog. Brandon is proficient in pet problem solving, and enjoys teaching others about smart and responsible pet ownership. To learn more, visit www.CanadianPetConnection.ca.