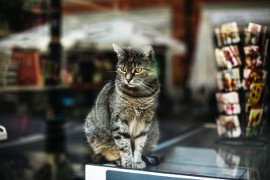 As part of a phased-in approach to restarting our economy this past Tuesday, May 19, retail stores across the province began re-opening their doors to customers. Not only does this mean good things for Ontario pet retailers, it means important pet services like grooming and dog training may resume serving their clients again. With the beginning of this new phased-in approach, how will this look for pet owners, and what can they expect going forward?
Pet Retail Stores
As of May 19, pet retail stores are permitted to open back up, but must limit the number of customers in their store at one time. This is to ensure that there is a safe minimum distance of six feet between customers at all times. Only pet stores with street-facing (i.e. not in a shopping mall) front entrances will be allowed to re-open.
In order to reassure a safe shopping experience, most pet retailers are implementing extra safety measures, like placing hand sanitizing stations at the entrance for customers to use when entering and exiting the store. While wearing masks by customers is not enforceable, it is strongly encouraged.
The risk of spreading COVID-19 is decreasing, however it is still a very real threat to our community. Shoppers are highly recommended to only touch things they intend to purchase.
For customers who choose to bring their dog into a pet retail store, understand the staff may not approach or touch your dog (even though they desperately want to!) in order to maintain responsible social distancing.
As a pet owner, the re-opening of your favourite pet retail store is exciting. However it is still best to stay home if you can, as pet retailers will be experiencing a surge in in-store traffic. Thankfully, you can still receive the same personalized service and advice from certified pet experts from the comfort of home. For those in Meaford and surrounding areas, if you're in need of pet supplies but still want to limit your exposure to public spaces by staying home, some retailers provide free home delivery. Some also offer free pet health and wellness advice, and can walk you through your options for your pet's unique needs over the phone, email, and social media.
Dog Grooming
As soon as the announcement was made last Thursday that Ontario pet groomers could re-open, phones were instantly ringing off the hook with overjoyed customers, eager to make appointments with Meaford's premiere pet spa, The Pampered Paw Spa. The Pampered Paw Spa will be re-opening towards the end of this month, and is already booking up weeks in advance.
Dog groomers are taking extra precautions to ensure they are providing a controlled, sterilized work space. For the time being, many groomers are not taking walk-ins for small pet services like nail trimming; this is now done by appointment only for the time being. As you arrive for your appointment, your groomer may choose to meet with you at the entrance with their own sterilized leash and collars, and will meet at the entrance again for pickup.
When bringing your pets to the pet groomer for their first post-isolation cleanup, it's important to follow a few tips:
Arrive promptly for your allotted drop off time. Your groomer is working hard to schedule clients in a manner that safely limits the number of dogs in one space at the same time.

Don't bring anything that isn't necessary, such as extra toys or treats.

When possible, exchange your pet with your groomer outside their facility to avoid going into their space.

Pay with debit or e-transfer, whenever possible, and only use cash if absolutely necessary.
Dog Training
Dog trainers are gearing up to help their canine friends learn new skills, including both private and group classes. If you're taking part in group dog training classes, keep certain precautions in mind:
Social distancing rules are in effect; keep a minimum of six feet from others.

To minimize exposure to yourself and other group members, wear a mask and gloves if possible.

Dog trainers will designate a safe space for you and your pooch to ensure everyone is keeping their distance.

Avoid bringing outside items, such as toys.

Please do not bring other family members; one person per dog.

At the Meaford Dog Training Academy, canine socialization will be allowed within the gated playspace, and the number of dogs who are allowed to socialize at a time will be limited to three.
Dog Walking
Dog walkers will be resuming their valuable services, giving dogs in our community some much-needed exercise and stimulation. Many dog walkers will now be providing their own sterilized equipment, such as leashes and collars. However, it is still recommended to ensure your dog's leash and collar are regularly sanitized as well. Speak with your walker about any new measures being taken to ensure safety for everyone involved.
The new phasing-in approach for Ontario businesses is going to be an evolving process. This is new territory for everyone, so if we all do our part in being patient, polite, and socially responsible, we can start this 'new normal' off on the right foot.
Brandon Forder, known as The Pet Expert, is vice-president of Canadian Pet Connection, an industry leader in healthy pet lifestyles. Brandon holds multiple certifications in pet nutrition, and has more than twenty-five years' experience specializing in pet health and behaviour. He has written hundreds of informative pet-related articles for newspapers, magazines, radio, and the popular Ask the Pet Expert Blog. Brandon is highly skilled in pet problem solving, and enjoys teaching others about smart and responsible pet ownership. To learn more, visit www.CanadianPetConnection.ca.