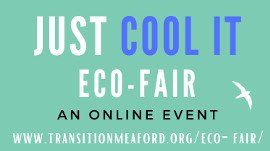 Southern Georgian Bay (and beyond) will become greener in late May and early June, thanks to the Eco-Fair called 'Just Cool It', organized by the Transition Meaford group.
The Eco-Fair will provide three on-line services, accessible at https://www.transitionmeaford.org/eco-fair/, for local residents who want to live in harmony with Meaford's environment.
The first part of the event is a digital community plant sale run by Meaford Community Gardens, a group of volunteers who grow organic food for Meaford's Golden Town Outreach food bank. Local folks can order a variety of seedlings on line, lovingly grown from organic seeds using organic growing methods. Buyers arrange to pick up their plants at a convenient time. A plant delivery service is available for seniors living in the Municipality of Meaford. Seedlings include a variety of vegetables and herbs, and flowering plants that attract birds and pollinators. The plant sale will run until the Community Garden is out of seedlings – it has lots of them. Proceeds from the sale will help the Community Gardens to expand its Food Bank services and outreach through providing fresh produce to those in need, space for those to grow their own food, and education opportunities for youth and the community at large.
The second part is an on line listing of local eco-vendors – individuals and companies – that provide products and services that strive to do no harm to the environment or that strengthen it. Each listing describes the products or services and lets buyers connect with these businesses online. This green cyber-marketplace will operate indefinitely – for as long as there are green goods to sell and people who want to buy them.
Lastly, there will be inspirational workshops series held from 9 a.m. to 1 p.m. on Saturday, June 6, which is free to participate and will be on current environmental issues but also practical tips and educational stories, each led by an expert in their field.
People can learn all about the plant sale, the eco-marketplace and the workshops at https://www.transitionmeaford.org/eco-fair/.
The organizers of the Eco-Fair are volunteer members of Transition Meaford, a group dedicated to building community sustainability and resilience – a richer, more vibrant Meaford.