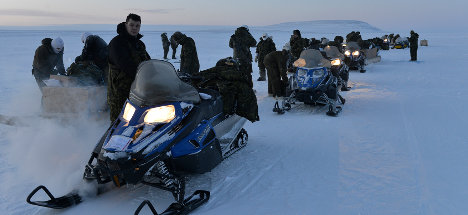 In sub-zero temperatures, members of the 4th Canadian Division Arctic Response Company Group (ARCG) began their move as part of exercise NOREX 15 on March 22, 2015.
Braving harsh wind and blowing snow soldiers mounted their snowmobiles and left the relative comfort of the Canadian Armed Forces Arctic Training Centre. They will stay out on the land and sea ice surrounding Cornwallis Island for six days, in one of the most challenging environments on Earth.
NOREX 15 is a military exercise taking place in and around Resolute Bay, Nunavut. It is being led by 4th Canadian Division, the Canadian Army's major formation in Ontario, and involves elements of 31 Canadian Brigade Group, 2 Canadian Mechanized Brigade Group and 1 Canadian Ranger Patrol Group. "Key aspects of this exercise are to enhance our ability to move, survive, and sustain ourselves in the High Arctic while ensuring we can provide support and operate when and where Canadians require us," says Lieutenant-Colonel Shane McArthur, Commanding Officer of the ARCG.
The Grey and Simcoe Foresters were given the task to act as an ARCG in 2007 and have worked over the last eight years to develop the skills of their soldiers and leaders. "We are proud to be one of four units to have this task – to have the ability to operate in a unique operating environment," says Lieutenant-Colonel McArthur.
Before stepping off into the isolated regions around Cornwallis Island, the ARCG spent a day 'shaking out'. They conducted a ten kilometre snowmobile patrol in order to test equipment, clothing and transport, and allow the soldiers to get used to the cold. In this case, the extreme weather, with winds gusting to 50 kilometers per hour and a windchill of -40, made it a true test. The wind picked up and visibility quickly dropped to about one metre.
"Everyone is very into the exercise. This [arctic response] is our thing. It's what we love to do," says Corporal Isaac Pereira, a member of The Grey and Simcoe Foresters from Barrie, Ontario. NOREX 15 is his fourth winter exercise of this type. The Orillia native says "to be up here is an experience that not many in Canada have. Most people don't get to see Northern Canada."
Sergeant Bill Roppel, a native of Wiarton and a member of The Grey and Simcoe Foresters based in Owen Sound, Ontario, is up for his fourth winter exercise as well. "It's my job to mentor the troops and help them learn to thrive in this weather," he says.
Augmenting the ARCG are 18 members of 1 Canadian Ranger Patrol Group, acting as guides and mentors. Made up mostly of Inuit Canadians from the nearby communities, their knowledge of the land and winter survival skills are highly valued.
NOREX will continue until March 30.