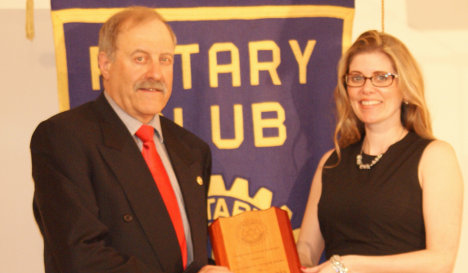 Georgian Bay Secondary School teacher Amy Teed-Acres has been named Meaford's Rotary Citizen of the Year. The announcement was made at the annual Community Awards gala hosted by the Meaford Chamber of Commerce on March 28.
"After reviewing numerous nominations from the community, the Rotary Club of Meaford has selected Amy Teed-Acres as the Meaford Citizen of the Year. Amy has devoted countless hours for several years to the physical and spiritual wellbeing of the youth in our community," said the Rotary Club of their selection.
For the past ten years, under Teed-Acres' guidance, GBSS students have helped bring the joy of reading to hundreds of children through the Born to Read club. The Born to Read Club works with Bruce Grey Children Services by raising funds to purchase new childrens books. The purchased books are also delivered to families participating in the Keystone program in Grey and Bruce Counties. The books are packaged by GBSS students along with letters outlining the importance and beneficial skills gained through early reading. In the ten years that the program has been running, more than 500 books have been presented to students in MCS, SVE, and BVCS kindergarten classes, and more than 1,100 literacy packages have been prepared by the Born to Read club for distribution across Grey and Bruce counties by Keystone.
The Rotary Club noted that Teed-Acres contributes to the betterment of her community in a variety of ways.
"Amy organized the 'Backpacks for Learning' program after recognizing that several high school students regularly lacked some of the essentials that we take for granted, such as simple meals, toiletries, fresh fruits and vegetables, cheeses and dairy products. These items are placed in backpacks that can then be picked up by students in a neutral location in the school and taken home on weekends to help households with multiple children who may also be doing without," said the Rotary Club. "From this simple beginning, the 'Food for Thought' program was born, where kids coming to school hungry and unable to focus on learning are given opportunity to join other classmates for breakfast and lunches. Amy noted that by making the program universal and available to all students, stigmas are avoided and a neutral and non-judgmental environment is created."
Some of Teed-Acres' other activities include the organization of food drives in support of the Golden Town Outreach food bank, and preparing hampers and gifts for families in need during the holiday season.
Teed-Acres told The Independent that she is both surprised and honoured.
"I am honoured to be named Citizen of the Year, and I am so proud to live and teach in this community. All of the programs and initiatives that I have undertaken have succeeded because of the support and kindness of individuals, businesses, service clubs, churches and organizations in this town," said Teed-Acres. "Strong kids build strong communities, and the more ties that we have between the two, the greater our potential as a community to develop and prosper. I have a poster in my classroom that reminds kids that no act of kindness, however small, is ever wasted and I truly believe it."