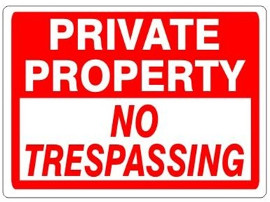 On April 29, 2017, at approximately 7:20 a.m., Grey County Ontario Provincial Police (OPP) responded to a trespassing complaint on the 7th Line in the Municipality of Meaford after two male suspects refused to leave a property when asked by the owner.
Despite several posted "No Trespassing" signs, the males entered the property to access a river to go fishing. When police arrived, the males acknowledged they had seen the signs.
Two 18-year old males from Waterloo, Ontario were each issued a Provincial Offence Notice for Entering Premises When Entry Prohibited under the Trespass to Property Act (TPA).
Grey County OPP remind the public that you must have the property owner's permission to enter the property for any recreational activities such as hunting, fishing, etc. Failing to do so may result in charges.
To learn more about the Trespass to Property Act, visit: www.ontario.ca/laws/statute90t21