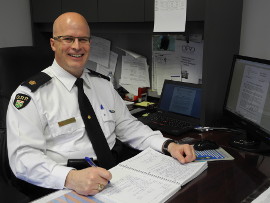 Grey County Ontario Provincial Police (OPP) Detachment Commander, Inspector Michael Guilfoyle, is retiring on May 31, after 32 years with the Ontario government, including 30 years and 5 months with the OPP. His last working day at the Chatsworth Detachment is May 16.
Inspector Guilfoyle began his career in 1987 at the Wiarton OPP Detachment. During his career, he has held various positions throughout the OPP, including Inspector/Director of the Gaming Enforcement Branch for the Alcohol and Gaming Commission of Ontario (ACGO), before transferring to Grey County OPP where he has been the Detachment Commander since March 6, 2012. While he is retiring from policing, Guilfoyle will be keeping busy as he has accepted a position as Senior Vice President Helsby Drake Regulatory Practice for Thentia Corporation located in Toronto.
"I am very fortunate for having the opportunity to lead a dedicated group of men and women at the Grey County OPP during the past five plus years. I am very proud of their professionalism and dedication to duty they continue to display on a daily basis. Their commitment to public safety and security often goes unrecognized and I would like to thank everyone for their ongoing efforts that has made my job as their Detachment Commander a very rewarding position," said Inspector Guilfoyle.
No replacement has been announced as of yet, and the OPP says that the identity of the new Detachment Commander will be released when known.