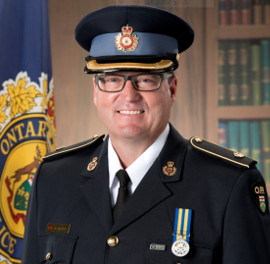 West Region Ontario Provincial Police (OPP) Chief Superintendent John Cain has announced that Inspector Martin Murray has assumed responsibility as Detachment Commander of the Grey County OPP.
Inspector Murray assumed command of the detachment on Monday, July 10, from retired OPP Inspector Michael Guilfoyle.
Inspector Murray began his policing career in 1988 in West Region at the Forest detachment in Lambton County. He brings a wealth of police experience and knowledge to Grey County having served in many roles across the province.
Inspector Murray most recently served at General Headquarters in Orillia where he was a Commander of the Provincial Operations Centre, effectively managing assets and deployments across the province. He also has vast experience working other police disciplines such as intelligence, Professional Standards Branch, and OPP Anti-Rackets Branch.
"I'm delighted to welcome Inspector Murray to the West Region Command team. His knowledge, skills, and abilities will not only be value added to Grey County, but will have many positive benefits for West Region," said Chief Superintendent J. Cain.