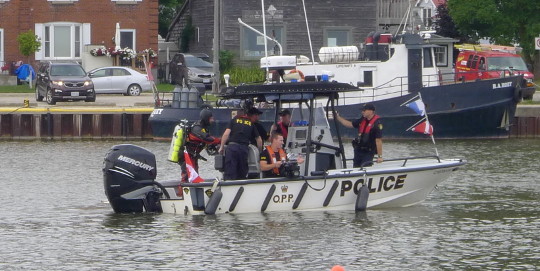 On Friday August 11, at approximately 12:20 p.m., an Ontario Provincial Police underwater search and recovery unit recovered the body of a missing boater from Meaford's Harbour.
Grey County Ontario Provincial Police (OPP) had been investigating a report of a missing boater in the Meaford Harbour since Thursday night (August 10) when they had been told that a lone male had been seen lounging inside a seven-foot white dinghy in the harbour. Police say that at approximately 9:30 p.m. on Thursday night witnesses had heard a splash in the water. The dinghy was observed overturned. There was no sign of the male who was described to be Caucasian, in his mid to late twenties.
The Canadian Coast Guard (Meaford), the OPP West Region Emergency Response Unit (ERT), OPP Marine Unit, and the Meaford Fire Department assisted in the search late Thursday night.
On Friday morning an OPP boat continued to patrol the inner harbour area while awaiting the underwater search and recovery unit to arrive. Within minutes of entering the water, the OPP diver had located the body approximately 30 feet from the dinghy - which had remained in the harbour overnight – and not far from the docks. The deceased had not been wearing a life-jacket.
The deceased has been identified as 26-year old Gary David Robertson of New Lowell, Ontario.
The corner attended the scene and, a post-mortem examination has been scheduled for August 12, 2017 in Owen Sound.