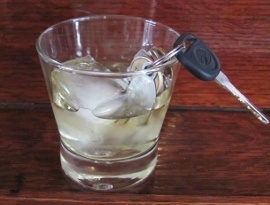 The Grey County Ontario Provincial Police (OPP) is asking motorists to act responsibly this holiday season. Never put yourself and others at risk by getting behind the wheel while you are impaired. If you plan to drink - don't plan to drive.
Even small amounts of alcohol, illegal drugs, prescription drugs and over the counter drugs, can impair your judgment.
The safest choice when driving is not to drink at all; alternatively, make arrangements for a safe ride, whether it's a designated driver, taxi, or public transportation.
Motorists are reminded that any amount of alcohol or drug can impair your ability to drive. If stopped by police, and you register a Blood Alcohol Concentration (BAC) in the "warn" range of .05 to .08, you could face an immediate driver's licence suspension up to three days.
Should you register a "fail", you may be arrested for impaired driving and face penalties which include a 90 day driver's licence suspension, vehicle impound, and a court appearance.
Should you "refuse or fail" to provide a suitable sample of your breath when the demand is made of you by a police officer, you may face the same consequences and penalties as that of impaired driving.
Motorists and residents are urged to call 9-1-1 if they suspect someone is driving, or is about to drive, while impaired by alcohol or drug.
When driving - drive sober - put down the phone and focus on the road.