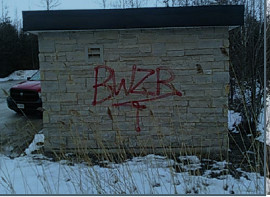 On December 19, 2017, Grey County Ontario Provincial Police (OPP) received a report of mischief done to the Meaford Re-chlorination building located on Grey Road 15 in the Municipality of Meaford.
Sometime between December 11 and December 18, 2017, unknown person(s) spray painted the initials "BWZR" on the building using red paint.
"Graffiti has a negative impact on the community. Persons responsible may be charged with the criminal offence of mischief which is the wilful damage or destruction of property," said the OPP.
Anyone with information is asked to contact the OPP at 1-888-310-1122.
Should you wish to remain anonymous, call Crime Stoppers at 1-800-222-8477 (TIPS), or submit a secure Web Tip at www.cstip.ca. You may be eligible to receive a cash reward of up to $2000.