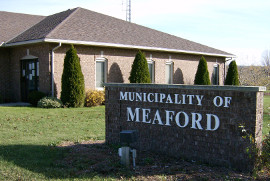 Earlier last year Meaford's management staff had forecast an operating surplus of roughly $160,000 for 2016, however staff have now indicated that the surplus is likely to be $360,000.
Council was given the good news at their March 27 meeting, as part of staff's fourth quarter report for 2016.
Meaford CAO Denyse Morrissey attributed the bulk of the anticipated surplus to significant savings realized in winter roads control and increased building permits, after what Morrissey described as "one of our best years ever for building fees and permits."
Treasurer Darcy Chapman explained that the municipality saw a surplus of $172,000 in the winter road maintenance department as a result of less than average snowfall in 2016, combined with cost-saving initiatives that included a reduction in the use of salt and a reworking of plow routes and schedules.
As for the planning and building department, Chapman told council that staff had anticipated nearly $138,000 in costs for the department in 2016, however with the increased revenues from fees and permits, the department only cost the municipality $6,567 last year, which added an additional $131,000 to the 2016 surplus.
The annual independent audit of Meaford's books for 2016 has yet to be completed, and the final surplus amount won't be confirmed until the audit is complete. Meaford Mayor Barb Clumpus suggested that the anticipated surplus for 2016 is a "good news story".
"This gives council an opportunity to look at using those funds for special projects in infrastructure or elsewhere in the community," said Clumpus.