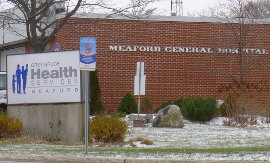 At their April 10, meeting, Meaford Council passed a motion favouring the continuation of elective day surgery services at the Meaford Hospital.
The motion notes that there is only a limited cost savings of approximately $81,000 between the recommended option to consolidate all day surgeries in Owen Sound, and the option to consolidate all elective day surgeries in Meaford with alternating weeks of endoscopies with Southampton.
The motion suggests the recommendation of GBHS to consolidate all elective surgeries to the Owen Sound site lacks transparency and accountability, and urges the Grey Bruce Health Services Board to delay any decision on the matter to allow for further discussion with key community partners.
The motion also requests that the GBHS Board release full details of all of the options considered in the development of the "Journey Back to Balance" strategy, including the economic and social cost-benefit analysis completed for each option.
"This recommendation by GBHS will impede our ability to attract new physicians in our "high-needs" municipality which will have an ever-increasing negative impact on health care services, the well-being of our residents and on our economy in Meaford as well," said Mayor Clumpus. "Council does not support the recommendation to consolidate surgeries".
Mayor Clumpus will be making a delegation to the South West Local Health Integration Network at their next Board meeting on May 16, 2017 to address the changes to the funding formula that resulted in anticipated deficits for GBHS.
"Council will seek a delegation to the Minister at every opportunity - until there is an equitable balance of funding between large urban and smaller rural hospitals," said Clumpus.