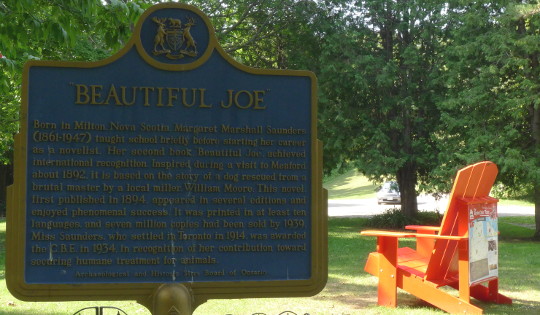 For small community organizations that have outgrown the 'management by kitchen table' phase that is common with many organizations, finding affordable office space can be a challenge. Fortunately for the Beautiful Joe Heritage Society (BJHS), who have been in search of a new home, the municipality had some space available.
Until recently the BJHS had rented office space from the Meaford Chamber of Commerce when they were located on Trowbridge Street. The Chamber of Commerce however, recently moved to an office on Nelson Street leaving the BJHS in search of affordable space.
A report to council presented at the May 29 meeting noted that the BJHS has worked closely with the municipality over the years.
"The Beautiful Joe Heritage Society (BJHS), established in 1994, is an established, registered, not-for-profit organization, operating independently of the Municipality of Meaford. The Society was formed to preserve, honour, and showcase the literary and humane achievements of the author Margaret Marshall Saunders (1861-1947) and the story of 'Beautiful Joe'," noted the report. "A symbiotic relationship exists between the two organizations for the purposes of promoting the story of Beautiful Joe and its lasting impact on the community of Meaford, supporting Beautiful Joe Park, and documenting and preserving the historical and heritage significance of Margaret Marshall Saunders and the legacy of Beautiful Joe."
Last year the BJHS received government grant funding to hire a student to collect, compile, and catalogue a complete and comprehensive database on Margaret Marshall Saunders. The report to council noted that the database will eventually be input and maintained at the Meaford Museum on the Municipality's Past Perfect software.
The BJHS asked the municipality if space might be available at Meaford Hall large enough to accommodate a desk, file cabinet, and some storage bins.
"Staff has reviewed the request and are able to provide BJHS with said accommodation needs. A facility rental contract will be required, clearly identifying responsibilities, parameters of relationship, access to space and any other matters pertaining to this potential facility use," noted the report to council.
Council voted in favour of the plan, which will see the BJHS move into a small space on the second floor of Meaford Hall at a cost of $1,800 per year.