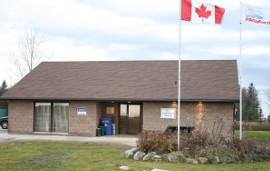 After a one-year pilot project aimed at providing some municipal services at the Sydenham Centre in rural Meaford, the municipality says that low usage has resulted in a decision to discontinue the project.
"As part of our efforts to enhance access to services, a one-year pilot project to deliver some municipal services was implemented at the Sydenham Centre. Our pilot project to deliver municipal services at this location started in May 2016. The Sydenham Centre was staffed every Thursday from 8:30 a.m. to 4:30 p.m. Library services were also provided from 12 p.m. to 4 p.m. on the first and third Thursday of the month," the municipality said in their announcement of the discontinuation of the project. "Based on this low rate of use the continuation of on-site weekly services was not recommended."
At their May 8 council meeting, council approved the staff recommendation to discontinue the project. In their report to council staff noted that over the one-year pilot project, there were just 80 visits to the Sydenham Centre for municipal services along with another 56 visits for library services, an average of just 2.5 visits each Thursday that services were offered.
A staff report presented to council noted that the pilot project did not result in a need for additional staffing.
"There were no additional staffing costs for the pilot project as the on-site services were a component of existing jobs with the staff member assigned to this location as per the schedule. The applicable costs for on-site staffing at this location and the operation of the building were included in the approved 2016 tax supported operating budget as well as the 2017 approved tax supported operating budget," read the report.
While the offering of municipal services at the Sydenham Centre has been discontinued, the municipality says that the building will still be well used.
"The space used for administration during this pilot will continue to be used by the operations staff for their administration, for election information centres and voter help, and other community and not for profit use as required. The Mayor will continue to host 'coffee time' at this location," noted the municipality.