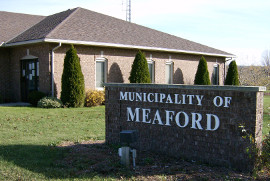 Meaford's 2017 tax supported budget includes $45,000 to support community partners providing programs, services, and events to the residents and visitors of the Municipality of Meaford. This recognition and financial support enables these groups to leverage other funding and support volunteer contributions.
The second of the two intakes is established for the fall. There are four grant categories, including civic events (such as Canada Day), festivals and fairs, community one-time projects, and community programs (limited to 20% of administrative costs). Just over $26,000 was awarded in the first intake this year.
Applications will be evaluated based on the following:
Demonstrated need

Contributions to the community

Promotion of the Municipality's vision, values, and strategic priorities

Good financial management and organizational ability

Other partners, other sources of funding, support of volunteers.
Forms are available at the Municipal Office located at 21 Trowbridge Street West or on the municipal website at www.meaford.ca/communitygrants.
The deadline for the fall intake is Friday, September 1. Applications will be reviewed by staff for consideration and approval by Council in keeping with the policy and approved budget.