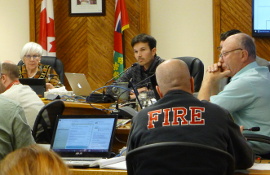 Meaford council has rejected a request by staff to fill the Director of Parks, Recreation, and Culture position that has been vacant for the past six months.
At their December 11 meeting council was told that with the position left vacant, the responsibility for the department has fallen to CAO Denyse Morrissey, who says the additional workload is not sustainable.
"The salary gapping of the PRC (Parks, Recreation, and Culture) director since June 2017, and the assignment of this full time position to the CAO has also contributed to the estimated 2017 operating surplus," noted Morrissey in her report to council. "As a result of this direction, the CAO's position currently has 12 positions reporting to it directly which is not sustainable, effective or strategic. During this time the ability to deliver capital projects within PRC has also been negatively impacted with the absence of a director to directly oversee projects of the department and corporate facilities. All staff are committed to ensuring that transitions are managed and take on additional duties and hours of work (a regular workweek is 35 hours) as is needed. However, this transitional approach (now about six months in length) has resulted in exceptional additional hours of weekly work, including repeated weekends over the last six months for the position of the CAO. As noted earlier, this is not sustainable."
Morrissey cautioned that if the position remains vacant or if it is eliminated, it would impact the ability of the municipality to effectively manage the assets within the department, including Memorial Park and the harbour. She also noted that while the position carries a salary of between $98,542 to $119,779, the department generates significant revenues for the municipality, and the director's position is responsible for nearly $50 million in municipal assets.
"The services of the department generate significant annual revenues of $1,520,550. The department net draft 2018 budget is $1,490,050. The draft 2018 capital budget is approximately $1,000,000. The department is responsible for assets with parks, recreation and culture, and corporate assets totalling approximately $47 million," Morrissey advised in her report to council.
Members of council were divided on the need to fill the vacant position.
"I believe we're way overdue for replacing this position," offered Councillor Mike Poetker. "I worry mostly about the burnout of people. You can replace things, but you can't replace people, and I don't want to be responsible for causing folks to burn out, and we're seeing it. We have great people and we need to protect them and keep them whole."
Poetker's view wasn't shared by all members of council. Councillor Tony Bell thanked the CAO for the extra hours she has been working over the past six months to cover the responsibilities of the PRC Director's position, but he noted the number of lower level staff within the department who manage the various facilities and he questioned the need to fill the position.
"Will we have access to going on a trail whether we have a director or not? The answer is yes. Can we do the things we want to do without a director? The answer is yes," suggested Bell. "We have people in place who are performing these jobs."
Deputy Mayor Harley Greenfield was also opposed to filling the vacant position.
"I have been elected as Deputy Mayor to represent the public, the residents of this municipality, and as a part of that I am compelled to listen to what they are saying. I don't agree with them all the time, but when I hear over and over from the vast majority of our residents saying that we've got one priority here, and that's our roads," noted Greenfield.
Greenfield cited a recent poll about municipal services that he had seen during this year's AMO (Association of Municipalities in Ontario) conference that suggested that culture and recreational programs are far down the list of importance to Ontario residents.
"One of the questions it asked was (for) which municipal services would you be willing to pay more taxes?" Greenfield told council. "The results of the poll were that 1.3 percent of those polled favoured paying more municipal taxes for parks, recreation, and culture. 52.2 percent favoured paying more for infrastructure. I would contend that if we took that poll in this municipality we'd see very similar results, perhaps infrastructure a higher percent. I'm here to represent people. I'm here to convey what they want, what they need in their daily lives. They want a good road to get to work on, to get to school on, to shop, to socialize, and I hear that, and I feel that i have to pass that on."
Ultimately, in a recorded vote council voted 4-3 against the recommendation to fill the position, with councillors Keaveney, Bell, Bartley, and Deputy Mayor Greenfield voting against.