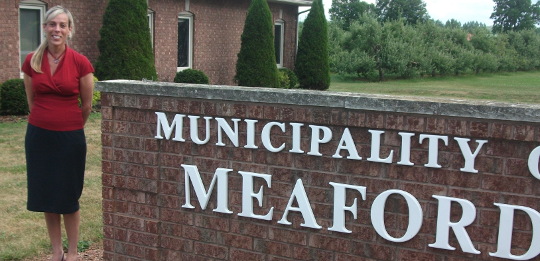 Meaford CAO Denyse Morrissey has tendered her resignation and she will be moving on to the Town of Shelburne to assume the CAO duties there.
Morrissey told The Independent that her last day with the municipality will be February 23, and she will be starting her new job in Shelburne on February 26. Morrissey has been Meaford's CAO for more than five years.
"Since being given the opportunity to be a member of the Meaford staff team in August 2012, I have had the privilege of working with many strategic, visionary, and forward thinking colleagues and individuals," Morrissey told The Independent. "The wide range of important services and projects that together we have provided across the community I believe have truly made a real difference in the quality of the lives of many residents. I am very proud to have been a part of our collective contributions and as a dedicated staff team. I am very thankful for my time with the Municipality of Meaford."
Meaford Mayor Barb Clumpus told The Independent that Morrissey will be missed.
"It is with deep regret that I accept the resignation of Denyse Morrissey who has been a dedicated and highly effective Chief Administrative Officer with the Municipality of Meaford for the past five years," said Clumpus. "Denyse's accomplishments are many including leading staff through the intensive and comprehensive review of the services provided to our residents. She has dealt with the challenges and opportunities in our municipality with grace, professionalism and enthusiasm, and council and our municipality have benefited significantly from her impressive knowledge and expertise."
The CAO is the only municipal employee directly hired by council, and the mayor said they will soon be exploring options.
"I am not surprised at this announcement. We will be exploring our options in the very near future," Clumpus said.